The Rise Above: Eliminating Stigma in Youth Mental Wellness youth summit is a collaboration between the Touchstone Foundation and The Hood Hippie Love Yourself.
This summer we collaborated with the YWCA Lancaster and their Center for Racial and Gender Equity. Throughout the summer intensive students were challenged and encouraged to understand different perspectives when it comes to mental health. 
During each Racial Equity Institute session, students built up their knowledge of mental health implications of race, learn about resources and understand the nuances about racism, stereotypes and implicit bias. Students also explored their creativity through different mediums of art with the YWCA Black Artist Waystation recipients. 
Lastly, students participating in the summer intensive connected to the Lancaster City community through immersive experiences like visiting other local organizations, educational institutions and various art spaces.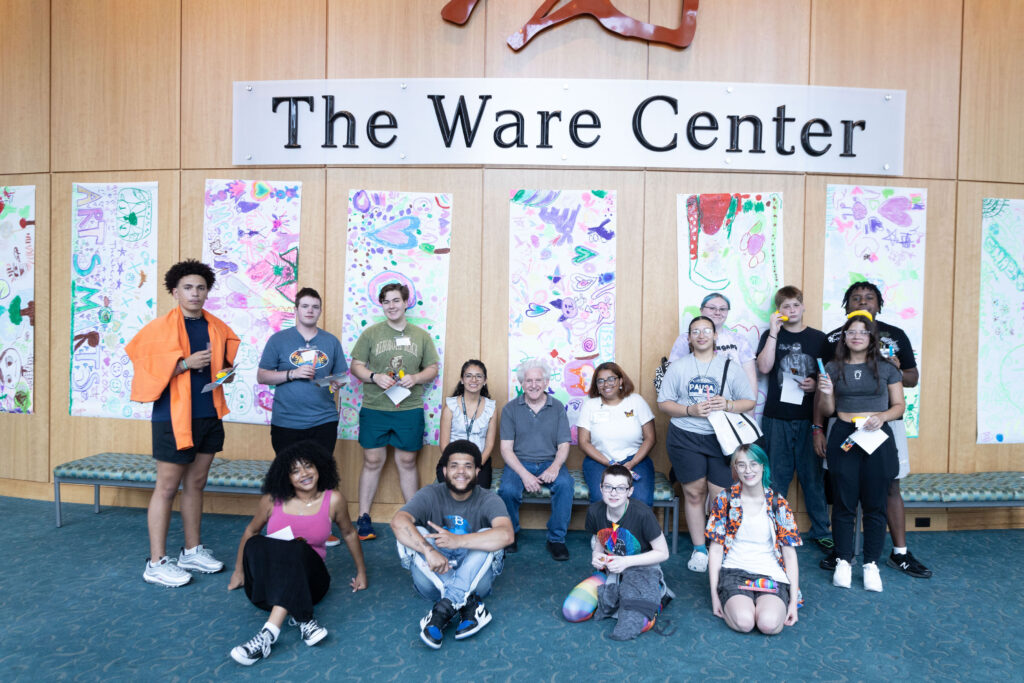 Racial Equity Institute – Day 5
On Tuesday, Tess Feiler continued with the REI and discussed labels, pronouns, and the difference between gender and sex. This helped the students understand a little bit more about themselves and those around them.
Tess showed the 'GenderBread Person' video which elaborated on the difference between gender and sex. Then, to continue the conversation, we played a game of Kahoot that made our students think about how they labeled people they did not necessarily know based on their external appearance. 
Artist Workshop: Sir Dominique Jordan the Prolific One is a poetic vanguard hailing from Lancaster, Pennsylvania; whether it spoken word or on a page, he uses his unique verbiage to inspire others to use their vulnerability as a 'super power'. He identifies as an Artivist, and teaches across the country about how Hip Hop culture and general creative expression are tools that can be used in the classroom/neighborhood to enhance the overall educational experience. He loves to challenge people to make a difference in their community as they see fit. The Prolific One is also the lead vocalist of the sensational, funky Hip Hop and R&B band, The Prolific Steppas. Lastly, Sir Dominique Jordan is the founder and CEO of both The Artivist Corp. (a social enterprise dedicated to youth mentorship) and Nobody's Pen (a poetic writers collective).
Poetic Probability is the 3 part workshop that Sir Dominique Jordan facilitated for Rise Above students. The first thing we did was write our aspirations on a piece of paper then folded it into a paper airplane to "let our dreams fly". Then we played a round of "guess who" with the paper airplanes to see how well we were able to guess who wants to do what! 
After this, Sir Dominique Jordan helped the students understand how to achieve their dreams, one step at a time. We took time to create poems that were based on zip codes and phone numbers that allowed the students creative freedom to express their feelings about those numbers. He even gave a live presentation of his 'Let the Rose Rise'.
Racial Equity Institute – Day 6
On Thursday, YWCA REI Coordinator, Tess Feiler guided students through LGBTQ history within the United States. Students participated in an engaging activity where they read aloud to the group history facts that highlighted past discriminatory issues. After each fact was read students had the chance to discuss and process out loud and compare the current experience of LGBTQ+ people.
Field Trip – The Ware Center, Millersville University
The performing arts is a very diverse and vibrant space where storytelling meets the stage! The Ware Center is an extension of Millersville University and their performing arts program and is located right downtown on Prince Street next to Fulton Theatre. 
Huge thank you to Barry Korhauser, an accomplished playwright and Assistant Director of Campus & Community Engagement for Millersville University who showed students around the space! Students got an exclusive tour through the building; learning about the history of the performing arts program at Millersville and about the architecture of the building. In addition, students were able to participate in fun team building exercises!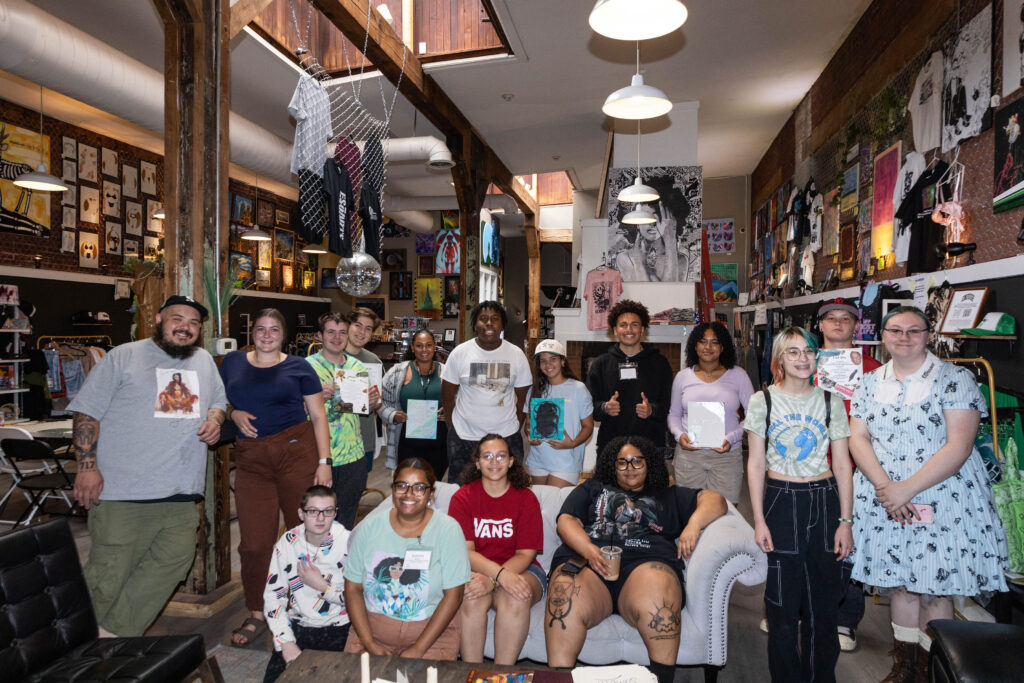 Racial Equity Institute – Day 7
Tess spoke about active vs passive allyship and how these roles are there to help hold people accountable for their actions. It was an important conversation for these students to have in order to understand how to be an ally and aid those who are an underprivileged community. Bravery, confidence, different forms of privilege, and capacity to engage. These are some of the traits that our Rise Above students believed to be important as an ally. Tess wanted to make sure the students were aware of their limits, so we discussed them in transparency. 
Despite their limits, we also talked about how we can be an ally at times when our limits are exceeded. This helped everyone understand that even if they are unable to be in-person for a cause, they can still help in different ways: donations, talking about it, posting about it, etc. 
We also touched on intervention tools for someone who is in harm's way to ensure the best possible outcome for difficult situations. When intervening in a situation, Tess also talked about how we needed to try to extract the biases we hold in order to react in the appropriate ways. 
Artist Workshop: Thunda Khatt, a spoken word poet, joined us today and helped the students create an affirmation poem. These, "Do you see me" poems helped students get in touch with themselves and find the things they want others to see about them. This workshop was split into two days – with the second day letting the students take their poem and creating it into more art.
Affirming Poetry is the workshop Thunda Khatt created aimed to channel negative energy that's stored inside us and release it through a poem that serves as a little reminder from ourselves that we're valuable. Students were led through an exercise where the first line of their poem was "Do you see me?". Then every line after that will start with "Do you see…." Write about yourself in a way that shows you value all the parts of you. An alternative was that the poem could also be written to someone the students care about very much as long as they complete their own affirmation first. Poems written to a loved one will start "I see you…"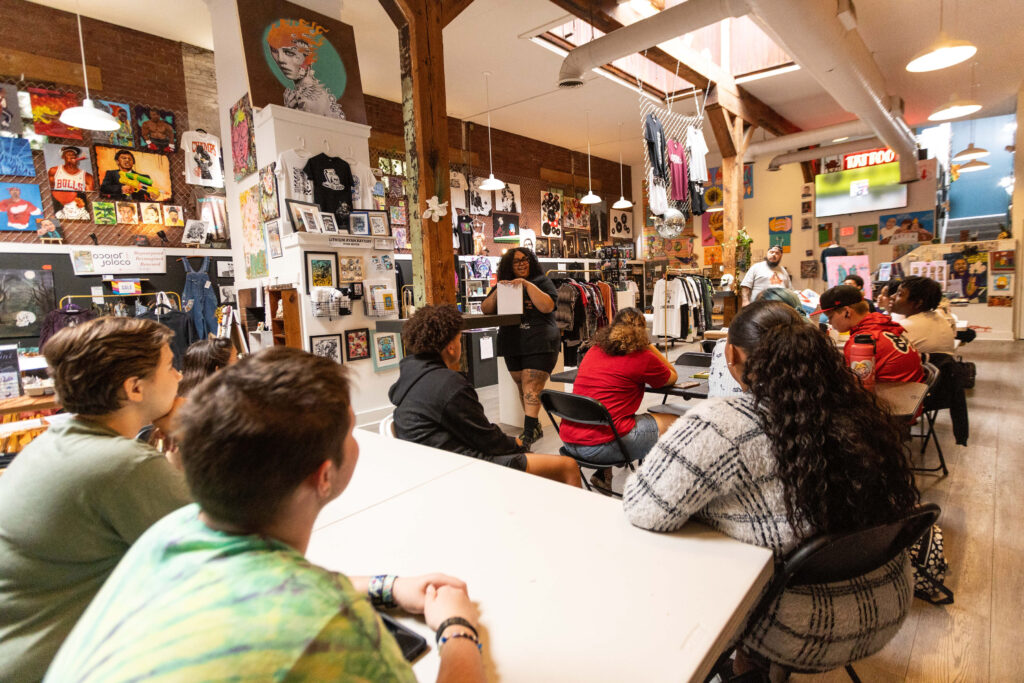 Racial Equity Institute – Day 8 
For our last day of our Rise Above Youth Summit, Tess talked to the students about "spheres of influence". These are the people who we can have an impact on, or who we can influence. The day started out with the students writing down everyone who they could possibly influence and then we had a conversation about how our spheres of influence can trickle 
We then talked about how these people can influence the other people around them. Again we talked about how 
Spheres of influence – the students talked about who they are connected to and how they can influence these people, while also discussing taking time to realize their own privileges. Having different sets of privilege helps create a safe space for those who may not have the same privilege as others.
Field Trip – EsoArts
Located in downtown Lancaster on the 300 Block of North Queen Street, EsoArts serves a community event space and artist hub. Home to over 60 artists' creations that are available for purchase the 4,100 square-foot space allows for local artists to display and sell their art to the broader Lancaster community.
Thunda Khatt distributed the students poems back to them on canvas' so that they could create collage work. This time allowed the students to be creative without limits and take their affirmation poem and make it even more beautiful. We took scraps of magazines, newspapers, paint, etc. to build onto our canvas'. We had time to create and enjoy each others company on the last day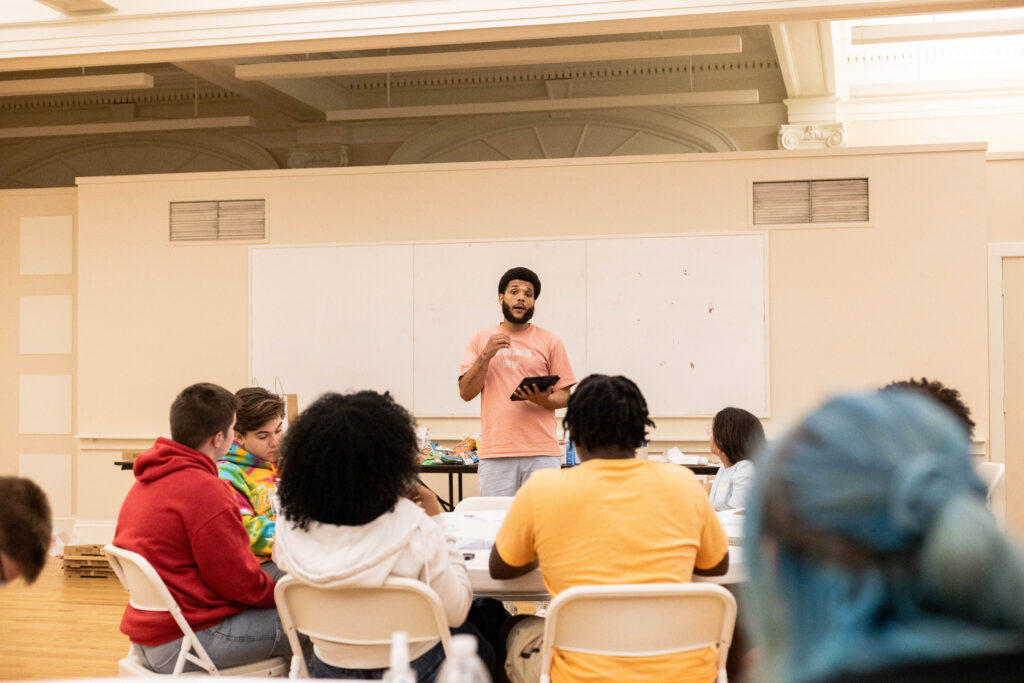 Touchstone Foundation thanks all those participating in our Rise Above Summer Intensive program!
We at Touchstone Foundation want to thank all of our Safe Space Coordinators and the YWCA for their time and effort throughout our Summer 2023 Rise Above Youth Summit! We are so grateful to have created an opportunity to work with the youth of Lancaster County. 
A special thank you to Tess Feiler for facilitating the REI portion of our Rise Above Youth Summit!