Happy Asian American Pacific Islander Month! We are continuing our Q&A series with some members of our community on the topic of mental wellness in connection with the Asian and Pacific Islander community. Today we are highlighting Brian Nguyen! 
Brian has lived in Lancaster since December 2020 moving from Baltimore, Maryland. They have helped to tell stories and build bridges for over a decade, but they're the Communications Manager for the Community Action Partnership of Lancaster County while helping various organizations, businesses and individuals with their communications and marketing such as the Lancaster LGBTQ+ Coalition and the Keystone Business Alliance. 
Q: What is your journey with mental health/mental wellness?
My journey with mental health is a continuous and ever changing one. 
I'm a first generation Vietnamese American. My parents immigrated to the United States during the Vietnam War. When my siblings and I were born, my family was not set up for success. My family lived in poverty – to allow us to live the American Dream, my siblings and I were "adopted" whom I consider my guardians and caretaker in a predominately white neighborhood. 
When you're surrounded by people who don't look like you, or eat what you eat, or talk like you talk, it creates a divide within oneself – hating myself for not being white or fitting in. 
So as I have gotten older, it really changed my perception when I had the opportunity to live with my biological father and his family – a traditional Vietnamese Catholic household, where we spoke, ate, and embraced our Vietnamese Heritage. It allowed me to see the world in a different perspective and humbled me on this newfound identity.  
As I prepared for college, my career path was laid out for me. I was destined to be one of the many stereotypical roles for Asian Americans such as a doctor, lawyer, or a doctor lawyer so I went to school with the intention of being a doctor, started off as biochemistry/pre-med. But I'm sure you're aware, when you go to college, it opens a variety of experiences and doors that changes your perspective. 
By the time I was a sophomore, I was the president of the Gender Resource Center where we did a lot of grassroots advocacy through various mediums such as canvassing, holding events, marketing, communications, and it was in through this experience that I was becoming more aware that I wanted to do communications and marketing. 
By the time I realized that, I have also confirmed that I am gay. On May 1, 2013 at 10:46 am outside my dorm room, I made a phone call that changed my life for the best. After telling my family the truth and a string of language, I hung up. I looked up to the sky and cried. I cried tears of happiness not because I was disowned but because I'm free. 
Unfortunately, the experience was not what I had hoped, but anticipated. 
It was one of the darkest but happiest days of my life because not only was I able to live my true self authentically and unapologetically, but I also wouldn't be alive today through a couple of experiences without my chosen family and support system. 
I put myself through college, I fought to stay alive, I learned to stand on my own and most importantly, I learned to love myself and smile again. 
This is a small part of my story, but I'll continue to share it because I want you to know YOU are worthy. YOU are worth fighting for. YOU are loved.  
To this day, I still experience anxiety, and trauma, but what has set me up for success is finding out ways to better myself each and every day and being intentional with my time and who I spend it with. My grandmother was my biggest advocate and ally – when she passed it was one of the hardest experiences I've ever had to go through. 
When I moved to Lancaster, I picked up gardening and working with plants. Not only was it therapeutic, but it helped me heal in so many ways. 
So whenever I meet someone, I always try greeting them with a hug. I hug because I want to take away some of the weight on your shoulders, I hug because I want you to know that I see you and I'm wishing you a happy day because I'm grateful that we're both alive to see another day. And I'm truly honored that I'm in your life.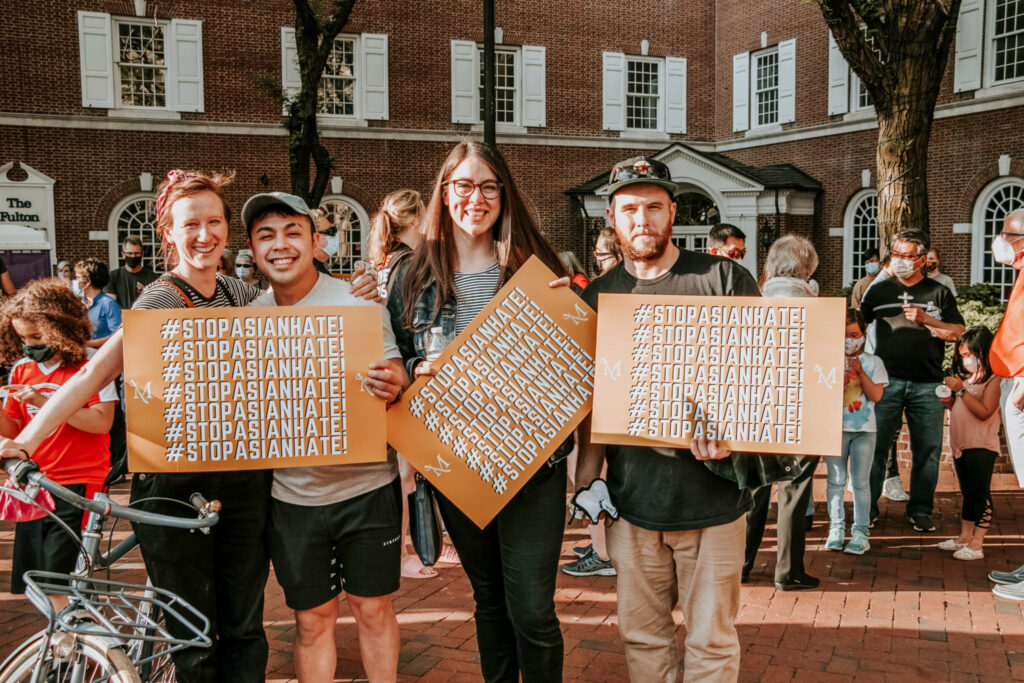 Q: Why do you think mental health awareness is important in the Asian community?
Mental health stigma affects all ethnicities, cultures, and nationalities, but Asian Americans don't seek help often. Asian Americans fear being thought of as weak or "crazy" for having a psychological disorder— shame and embarrassment force many to struggle in silence and never seek help. We're often put into these boxes where we are perpetuated as a stereotype. 
Generational Trauma is real. First-generation immigrants – particularly from conflict areas – may experience trauma. This trauma can be passed down to their children and subsequent generations. AAPIs with a long family history in the US may have compounded trauma due to racial discrimination or other factors. 
Although it's not often talked about, many have found workarounds and confiding in their circles and more their comfort zone. 
Q: What is one piece of advice you would give to children/youth in Lancaster looking to improve their mental wellness?
You're not alone. Labels are for clothing, for filing, for the canned goods you pick up at a grocery store, it's not for people. YOU. DO. YOU! You wouldn't plant a seed and then dig it up every few minutes to see if it has grown. So why do you keep questioning yourself, your hard work, and your decisions? Have patience, stop overthinking, and keep watering your seeds. 
 Don't expect 100% when you're only feeling 20%. Instead of making yourself feel worse about not being productive when you're having a bad day, adapt your expectations to match how you're feeling. It will save you so much stress.